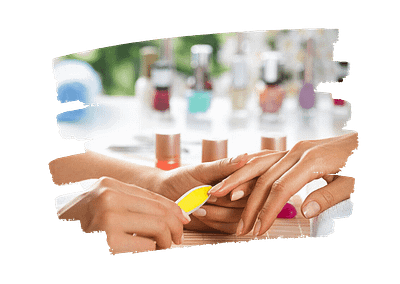 Bringing back the true magic of a manicure. More than just the beautiful outer appearance, this manicure has the power to relieve internal tension and pressure.  Hand massage therapy of the lower arms and hands to help melt away stress and reset your balance.  Our top-of-the-line collagen treatment will nourish and rejuvenate your hands leaving them youthful and energized.  Your hands are curated with nails shaped to desired length, cuticle groomed, and polish to perfection or shine au naturale as they are.   Truly an amazing wellness routine for women and men. 
Duration : 40 min
With Gel Addition (+ $25) :  1 h 
It's all about your feet! Relax and enjoy the aromatherapy foot soak made of natural Dead Sea Salt, Organic Aloe Vera, and Lavender Essential Oil.  As we work our way through, you may feel lighter as your nails are trimmed and shaped to desire length, cuticles are groomed, dried and rough skin removed, and your feet are restored to their healthy condition.  Experience a nourishing and hydrating collagen treatment followed by massage with lavender oil that will calm your mind and body.  Your nails are polished to perfection with your favorite choice of color.
Duration : 50 min
With Gel Addition (+ $25) :  1 h 10
Get in touch with true luxury. This beautiful combination of both a manicure and a pedicure is super relaxing and therapeutic for your tired hands and feet. Enjoy the aromatherapy of natural Dead Sea salt, organic aloe vera, and lavender essential oil foot bath, cuticle groomed, nails are trimmed to the desired length and polished to perfection.
Duration : 1 h 30
With Gel Addition (+ $50) : 1 h 50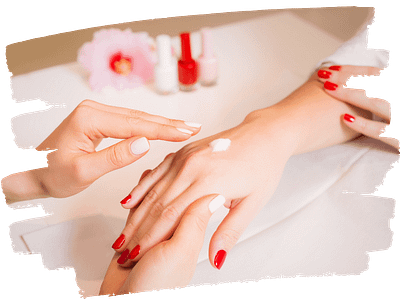 Indulge your hands with the extra attention it deserves. In addition to everything the Luxe Manicure has to offer, enjoy an extended oil massage for deep relaxation. Nothing like an extended massage to restore your sense of well-being. 
Duration : 50 min
With Gel Addition (+ $25) : 1 h 10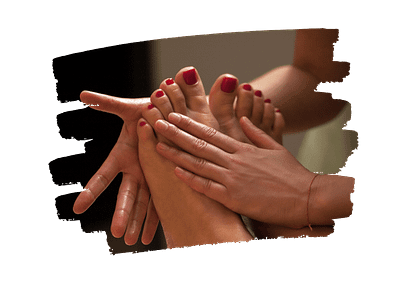 The Royale Pedicure is perfect for full rejuvenation. It includes all the conditionings from the Luxe Pedicure along with an extended oil soothing massage.  Just exquisite for your feet!
Duration : 1 h
With Gel Addition (+ $25) :  1 h 20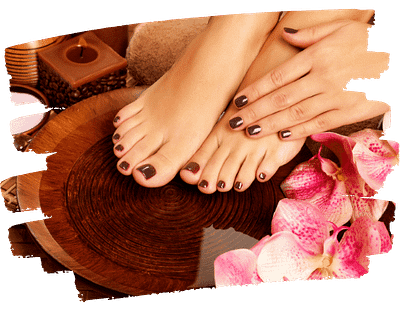 ROYALE
MANICURE & PEDICURE
The ultimate relaxation package. It includes every in the Luxe Package plus heat therapy for deep relaxation through extended massage with lavender-infused essential oil. A resort pampering right at home.
Duration : 2 h
With Gel Addition (+ $50) :  2 h 20